Take palletizing, for example, raw materials at high moisture content due to the lubricating property of water that lowers the friction in the pelletizing process. But how to measure the moisture content of sawdust or other biomass materials? A simple and accurate way is using Moisture Meter.
Sawdust Moisture Meter(i.e. Sawdust moisture checking machine) is the device for measuring moisture contents in sawdust, wood shavings, slivers, and other finely crumbled wood waste. 
Sawdust moisture meter TK100W

TK100W used for measuring the moisture content of wood material (such as sawdust, paillasse, bamboo powder). It is
widely applied in wood pellets and briquettes plant, paper making, flakeboard, furniture industry.
Specification
﹡Display:4 digital LCD
﹡Measuring range :0-84%
﹡Temperature:0-60
﹡Humidity:5%-90%
﹡Resolusion:0.1
﹡Accuracy: ± 0.5%n
﹡Operation: Electrical Resistance Method, Automatic temperature Compensation
﹡Power supply: 4x1.5 AAA size (UM-4) battery
﹡Dimensions: 460mm×75mm×35mm
﹡Weight:203g (not including batteries)
﹡Guarantee:1 year
Pictures: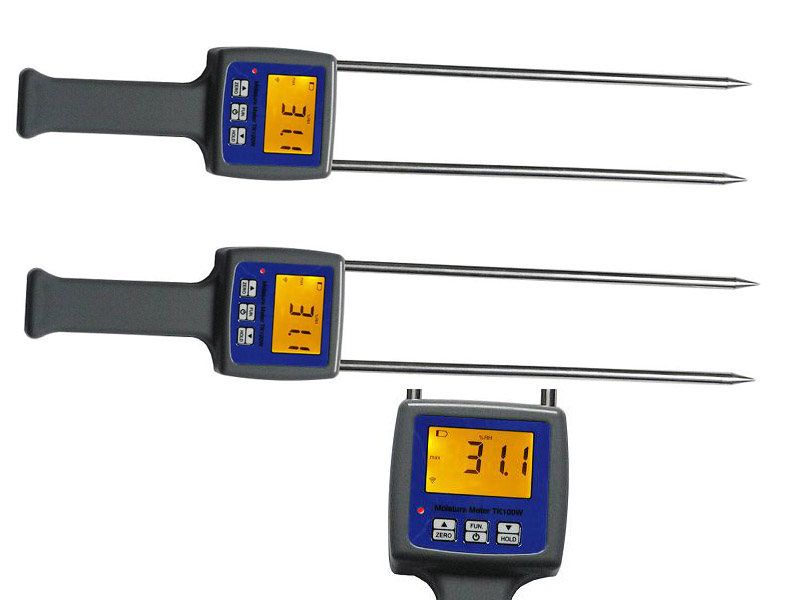 Click the VIDEO to see how it works.
If the raw material has very high moisture content for processing, the drying process will be added, if it's lower than the level needed, dry material needs to be mixed with high moisture content material, or through other ways to increase the MC.