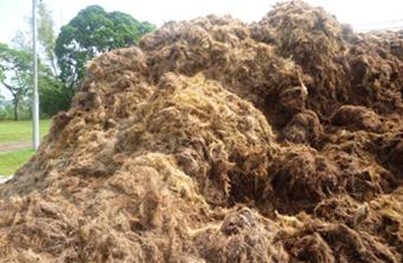 In crude palm oil mill, FFB (Fresh Fruit Bunch) is received and send for crude palm oil process.  After bunch sterilization process, palm oil bunch will go through a Fruit Detachment whereby threshing process applied in order to separate between sterilized palm fruit and EFB bunch (Empty Fruit Bunch)
Empty Fruit Bunch (EFB) is originally in raw form and is further processed into shredded form. Shredding process slices EFB into smaller and loose structure, which is easier for making bio-fuel, either burning directly in boiler, or further processed to EFB pellets or Briquettes.
Drum chipper shredder, with 4-5 flying knives, special cutting angle between flying knife and bottom knife, is considered as most economic, and efficient shredding machine for turning EFB into short fibre. We design and fabricate the drum chipper shredder. A lot of improvement have been taken to suit users from different countries. I.e. in Malaysia, power supplying is 415V 50HZ, people has got used to machine soft start, while in China, it is 380V 50HZ, and machine start method is star delta.