Wood or Biomass Pellet Line
is always made up such pre-treatment equipment like shredder or chipper, crusher or hammer mills, and moisture reducing equipment like airflow dryer or rotary drum dryer, pellet mill, pellet cooler and separator, pellets packing machine.

How to choose the types of each equipment? We will help you to sort out the best machine for your production, but first of all, we need to understand the basic information before providing you an outline price and specification of the pellet line.

1. What type of raw material you are expecting to process
2. How many different ingredients are to be processed together
3. Whether your material is \"dry\", moisture content 12-15%
4. Whether the size of your raw material is less than 4mm in diameter
5. What output per hour is required for the pellet line
6. The standards of your electricity. ie 380V/440V//415V/220V, 50HZ/60HZ. Because the electric elements made in China are 380V/50HZ, we must supply a different element to match your electricity standards.

We will supply a tailor-made proposal based on your basic information. We can install your entire plant from the ground up or we can help you pick and choose what parts we will do and what parts you can do yourself to help keep costs down. Our years of experience can help us the size and design of your system to work right. Also, we have some sample pellet lines for your consideration.

Mobile pellet plant for straw, with output 200-300kgs per hour.
Production line for wood pellets, straw pellets, EFB pellets, with output 800-1000kgs per hour
Production line for oil palm EFB pellets, with output 2000-2300kgs per hour.

These are simplied and semi-automatic pellet line, high effient and less investment.

Main diagram of the wood & biomass pellet line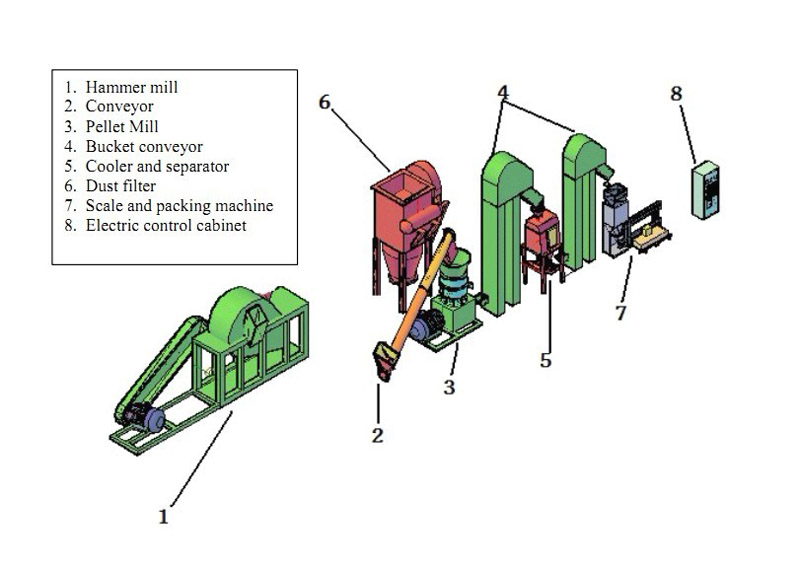 Delivery and package

The wood/biomass pelelt line will be ready for delivery in 45 days upon buyer\'s down payment. Considering the long distance and long time of ocean shipping, we will ask the container to load the equipment in our factory to avoild rude handling in the port. Package material will be strong plywood case and iron cases.

Commissioning of the plant and tranining will be on your cost.
Biomass pelletizing machinery for Recycling wastes to Produce Energy. Equipment to make pellets from sawdust and efb fibers, straw fibers and etc. A moisture meter is helpfuel for you to understand the moisture content of your raw material.

Please click the pictures below to see the details of each pellet line.