machine, fibre separator, fibre baler.
Details of fibre making machine:
Machine input size: 950*700mm
Main shaft: 1100-1200prm
Capacity: 4-10T/H (input coconut EFB))
1.5-2.5T/H (output coconut fibre)
Length of output Coconut Fibre: 80-250mm
Machine size: 3800*3000*2300mm
Machine weight: 5800kgs
After their hard working, the whole line ran smoothly and produced good quality coconut Fibre. User is very satisfied with our machinery and service, plans to order one more line when the existing production goes regularly.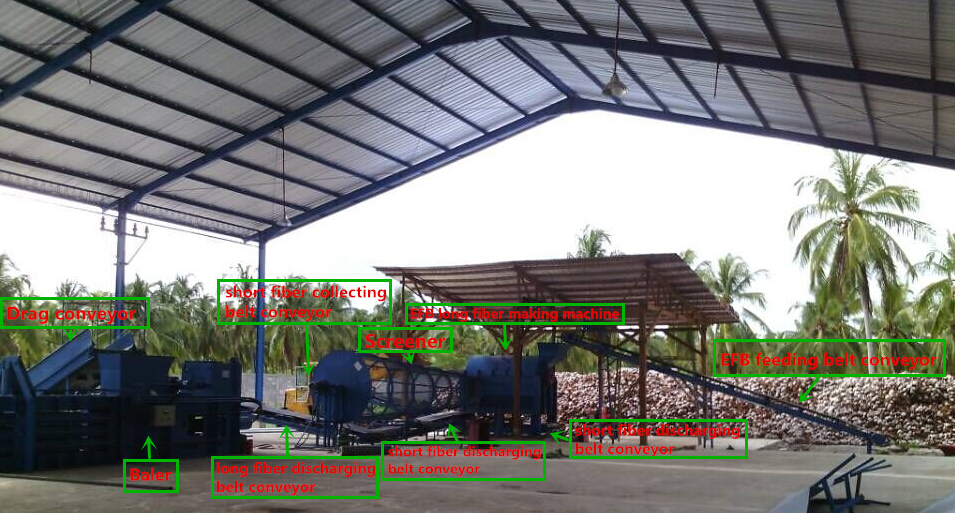 Beside this project, KJ Industry has finished palm EFB fibre project in both Thailand and Malaysia.
Fo your new investment on palm or coconut fibre production, it is important to make sure you'v found long time supplying of palm or coconut EFB, and get understood about the moisture content of your raw material.
Also please make sure power supply for your workshop. We have awared that in some places of east Malaysia, also some islands of Indonesia, it is difficult to run big machine due to lack of electricity.
If you want to discuss more with us, please feel free to send e-mails to:

This email address is being protected from spambots. You need JavaScript enabled to view it.

, or call us by : 86-(0)133 0392 9597